Oh, Callisto. Your heart is in the right place, but Naveed is not going to accept your offer.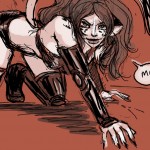 Here's a Naveed picture just because! Click the thumb for the full image.
A few things this week! I posted some pictures from Emerald City Comic Con on the Zap! facebook page. Check them out! I had a great time. Zap! shared an endcap with NNFB, L.A.W.L.S., Toilet Genie and Amya. It was a great group!
I sold out of all the squids I brought to the con, which was totally great (Squids are still available in the store)! Thanks so much to all of you who came out, bought a book, sketch, button, whatever, or just came by to say hi. It was really interesting to me that at this particular show, I talked with a lot of fans about Holly. Sometimes you guys aren't super vocal on who your fan favorites are, but I guess Holly is doing well with you guys. :)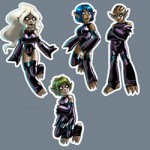 New charm designs in the store! If you like Io, Callisto, Europa, or Ganymede, you can now get a little plastic charm of them.