Well! It's been over a week now! Sorry about all the website trouble. After the initial traffic bumps and server crashes, we had a mild BOT attack again, but were much better prepared to handle it than the last time! (I don't know what crawled up the butt of whoever keeps trying to do these attacks. Really sorry about it!) Things have been pretty stable since then, though. I hope you've all enjoyed the ending! I've loved reading all of your comments and emails!
SO, WHAT'S NEXT? WELL!
My new comic Wilde Life is off and running and already into chapter 2. So check it out if you like American folklore! :)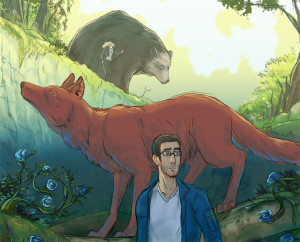 ALSO! I got asked to participate in an erotic anthology and I'm really excited about the story I have for it, but we need your help to make it happen! So, there's a kickstarter campaign for it. It's called ARMOROUS and it's all fantasy themed adult comic goodness from me and some other AMAZING artists! Check it out and support it if you're interested! SEE IT ON KICKSTARTER!
That's all! Thanks so much for reading all these years, you guys! xoxo
Paz